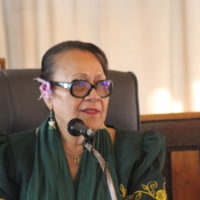 The Department of Human Resources has so far paid out $628,800 in unemployment claims related to the COVID-19 pandemic.
This was revealed by Human Resources Director Mrs Eseneiaso Liu during review of her department's budget yesterday,
American Samoa was awarded just over $16 million by the US Department of Labor under the Pandemic Unemployment Assistance Program and the Federal Pandemic Unemployment Compensation Program to assist those who have suffered income loss or jobs because of COVID-19 and related restrictions.
Responding to questions from Fofo Representative Andra Samoa, Mrs Liu reported that DHR received 1,020 applications.
She said eligibility rules and conditions of the program were extensive and very strict.
Foreign workers were not eligible for assistance.
The total amount of unemployment claims paid out so far is $628,800 and there are still applications pending review.
DHR staff affiliated with the program say since the funding was given for a specific purpose , it's likely that any unused monies would have to be returned to the US Department of Labor.