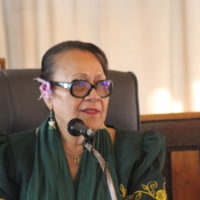 The conversion of contract employees to career service came under scrutiny during review of the Department of Human Resources budget yesterday.
It's been a long standing practice that when a contract employee is converted to career service status, their salary will be reduced. But House Speaker Savali Talavou Ale observed that in many of the conversions in the FY2021 budget, the salaries of contract employees remain after conversion to career service.
Human Resources Director Mrs Eseneiaso Liu explained that there are competitive and non competitive conversions and also that for positions funded by federal training programs the salaries would not change. She also told the hearing that if directions are given by their leader as far as salaries, they will follow those directions.
She gave the same explanation when the Speaker asked about why there are two deputy directors for DHR and why one is on contract and the other is career service.
Mrs Liu said that under the law DHR has two directors. One deals with the federal government on training programs which DHR administers. This position is occupied by Ms Makertia Enesi who has been with the federal training program since its inception.
Mrs Liu explained that Enesi would like to retire but there is no one to take her position so she is on contract. The other is a locally funded position.
The Speaker asked for the section of the law which says that DHR must have two directors. Mrs Liu said she would provide this later as she didn't have the info with her.
She also added that their leader has determined that some departments have grown with big operations and therefore should have two deputies. The House Speaker said if directions are given and they don't comply with the law you still follow them. He told the director not to use the leader (the governor) as an excuse.
The Speaker opined that if the law requires two deputy directors both positions should be career service, He said these positions have always been career service not political appointees,
The DHR budget for FY2021 totals $2.6 million up from $2.3 million in 2020, personnel costs are budgeted at $2.4 million.
During review of the Department of Commerce budget which preceded DHR's budget review, questions were also asked of two special assistants to the director. One special assistant has a salary of  $60,000 and the other's salary was $59,200. These are in addition to two deputy directors.
Speaker Savali stated that if this trend of every director bringing in his own people continues its going to add significant costs to the government.