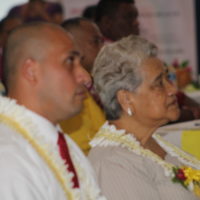 It's a myth that talking about suicide will lead to suicide.
That was one of the messages from Adney Reid, a speaker at the candlelight ceremony for World Suicide Prevention Day hosted by the Department of Human and Social Services at Lee Auditorium yesterday.
Reid, a US-Licensed Clinical Social Worker formerly of the VA Clinic and now Welfare and Self Reliance Manager for the Church of Jesus Christ of Latter Day Saints, said he changed his degree course to mental health after one of his best friends, Tau, committed suicide.
Reid gave tips on what to look for in order to prevent suicides. One of the points he stressed is not to be afraid to ask if someone was thinking of taking their own life.
Play Audio