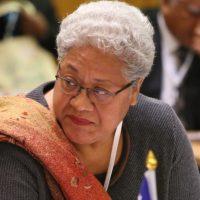 Samoa's Deputy Prime Minister Fiame Naomi Mataafa has resigned from Cabinet.
She met with Prime Minister Tuilaepa Sailele Malielegaoi and officially handed in her resignation today.
On Wednesday her district of Lotofaga rejected three bills government is pushing which would change the Constitution and introduce an independent Land and Titles Court, a decision Fiame has endorsed.
''If the suggested amendments are not introduced, I will vote against them,'' she told media after a consultative meeting between her district and the Parliamentary Select Committee.
Tuilaepa said Thursday if she does not vote for the bills then she is no longer a member of the ruling Human Rights Protection Party.
Fiamē told Talamua that she intends to remain as an independent MP in the House for the rest of the term that ends in January, 2021.
She and the Prime Minister had been in a rare public confrontation in parliament in March this year when she voiced her concerns on the amendments to the Electoral Act and Tuilaepa asked her to resign if she does not support the amendments.
Fiamē said that she is resigning on a matter of principle.
"Every choice we make has consequences," Fiamē told Talamua "and I'm subscribing to the democratic principle that I'm in the minority on Cabinet driven laws that do not have my support."