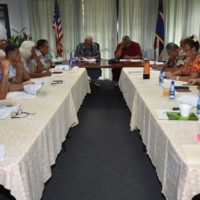 The request from the Tagata Tutu Faatasi Alliance of American Samoa for repatriation flights to bring home local residents stranded in Hawaii and the US mainland is being vetted, according to the Chairman of the Coronavirus Task Force Iulogologo Joseph Pereira.
He said in response to KHJ News questions that Governor Lolo Moliga has tasked two groups to come up with plans that would facilitate repatriation of stranded residents "without risking the lives of our people here on island."
The plans are to be presented to the Governor on Thursday from which a decision will be made whether to proceed with the repatriation request from the group.
Iulogologo explained that the governor's ultimate concern and objective is to prevent the entry of the coronavirus into the territory "which will trigger devastation that we have struggled vigilantly and diligently to avoid all these months."
"The Governor has repeatedly expressed his concern and sympathy over the plight of our people being stranded off-island, but the associated risk is currently too high with the unpredictable nature of Coronavirus," said the CTF chairman.
"The decision will be made once the plans prepared by the two groups are submitted for review."
KHJ News has asked for a reaction from the governor on the latest request from Tagata Tutu Faatasi for an allocation of the CARES Act funds to help residents stranded off island with repatriation flights, meals, housing and medical care.