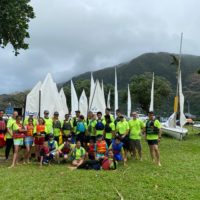 The Sailing Association of American Samoa Inc (SAASI) hosted its annual Labor Day Regatta in conjunction with the American Samoa Laser Class National Championships over the holiday weekend.
Races were held in rough seas and high winds on Saturday and Monday making for some exciting race conditions for sailors competing in the Optimist, Laser, and 420 boat classes.
Ten sailors competed in the Optimist class with this event being the debut regatta for 7 of the sailors. Dirona Stowers took gold, followed closely by Ty Jones grabbing silver, and Annaura Reid-Gillet in the line with the bronze.
Seven sailors competed in the Laser Class races. Most of the sailors competing in this class have been sailing for at least 4 years. Victor Chen took gold, Christian Lorenzo received silver, and Georgia Cox nabbed the bronze.
The 420 Class is new to the SAASI fleet and raced for the first time on-island in this regatta with Tiva Duffy and Jackson Van Fleet taking gold over Regan Duffy and Bucky Jones who got the silver.
The American Samoa Laser Class National Championships were also held this weekend and American Samoa now has 2 new National Champions: Victor Chen took the top spot in Men's Standard and Jade Cox earned top Women's Radial. Congratulations to our National Champions and to everyone who raced in the SAASI 2020 Labor Day Regatta.
Open Optimist Results
1.Dirona Stowers
2.Ty Jones
3.Annaura Reid-Gillet
Open Laser Results
1.Victor ChenTerritorial B
2.Christian Lorenzo
3.Georgia Cox
Open 420 Results
1.Tiva Duffy and Jackson Van Fleet
2.Regan Duffy and Bucky Jones
ASLCA National Championship Results
Men's National Laser Class Standard Champion – Victor Chen
Women's National Laser Class Radial Champion – Jade Cox
SAASI thanks the Development Bank for continuing to support the local sailing program by allowing use of the only reasonable remaining access to Harbor waters.