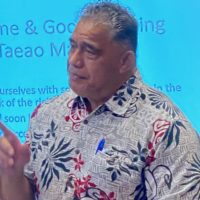 Governor Lolo Moliga had said at Sunday's Coronavirus Task Force meeting that he was giving this week to the management and medical staff of the LBJ Hospital and Department of Health to come up with recommendations for the repatriation of residents stranded in Hawaii and the mainland.
According to Director of Health Motusa Tuileama Nua the biggest task before they finalize a recommendation is ensuring that all travelers receive COVID-19 tests 72 hours before boarding a flight to the territory, and preventing against exposure to the deadly virus before they arrive in the territory.
He said it's a major task requiring much coordination with parties in Hawaii.
"We need to get travelers from The mainland to Hawaii at a certain time, and ensure they are tested and the results made available quickly," he said.
DOH is working with LBJ Hospital and the VA clinic and Motusa says they hope to firm up the plan before they brief the Governor early next week, leading up to the repatriation flight exercise set for Thursday.
The exercise will simulate a flight with 300 passengers on board and will involve all agencies that have a role in screening, transporting and quarantining the passengers. The exercise is to take place from 6om to 11:30 pm, Thursday.
The governor instructed that the medical group make a recommendation on whether or not a repatriation flight or flights should be allowed. If so set procedures for screening, quarantine and so fourth. And if a flight is not recommended, what other options should be considered.
Asked today what their recommendation would likely be, the Director said they haven't reached that point yet.