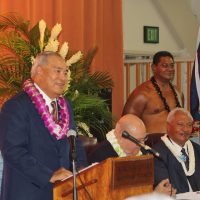 The proposed budget for ASG for Fiscal Year 2021, Governor Lolo Moliga's final budget proposal, totals $465.9 million which is 10% more than the current year budget of $424.2 million.
The breakdown is:
$110.1 million in local funds, an increase of 24% over FY 2020
$134.7 million in federal grants, up 29%,
$210.7 million in Enterprise Funds which includes the budgets for the authorities, up 45% increase and
$10.2 million in Capital Improvement Project funds, up 2%.
The governor tells the Fono leaders in his cover letter that it's necessary to appropriate sufficient resources for the incoming administration to prevent Anti Deficiency law violations, and most importantly to ensure that quality of services for the people are not compromised.
Here's how the proposed budget is allocated:
$72.5 million, 65% goes to personnel,
$21.8 million , 19.9% is for contractual services,
$2.6 million, 2.4% goes to materials and supplies
$1,2 million, 1.1% is for travel, equipment $795,500 ,
$795,500, 0.7% is for equipment,
$11 million,  10% is for All Others
Governor Lolo said the FY2021 budget threshold was set initially at the FY2020 budget level.
However it was increased to include the new starting salaries for  employees with high school diplomas at $12,000 and Associate Degrees at $16,000.
The total number of positions in the proposed budget for Fiscal Year 2021 is 6,972 compared to 6,837, in FY2020.  According to the governor's cover letter , the increase of 135 positions can be attributed to an increase in career service employment due to the conversion from contract to career service.
But KHJ News points out that if this was the case, there wouldn't be an increase in total positions since all positions regardless of status are included in the budget or supposed to be included.
The number of career service  employees jumped from 4,821 to 5,252 an increase of 9% while contract workers dropped from 2.015 in FY2020 to 1.719 in the new fiscal year budget.
As far as local revenues, the 7% increase is attributed to improved collections due to enforcement of revenue measures and the huge influx of COVID-19 stimulus funds which helped propelled business activities. This led to increased profit margins for the private sector and subsequent increases in tax payments to ASG.
According to the governor, maximum production by StarKist for the period of six months increased purchasing power which also fueled business activities.
The local revenues are derived from:
taxes – $71 million
transfer ins – $16.2 million
charges for services $7.1 million
Fees and fines – $5 million.
Interdepartmental charges – $5 million
Licenses and permits – $1.5 million and
Miscellaneous – $4.2 million
The Governor's Special Programs has a proposed budget of $22.7 million. Some of the new items on the list of projects are $1 million for political staff payouts,  $700,00  for court house repairs and $21,000 for the Leapaga family land lease.