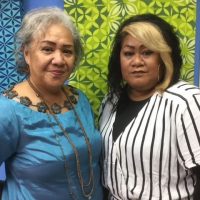 "Yesterday was a day of defeat for justice," according to Fatumalala Al-Shehri who was unsuccessful in getting her and running mate Leah Smith's names on the ballot for governor and lt governor.
Among local residents who're stranded off island because of the suspension of flights due to the COVID-19 pandemic,  Fatumalala said the Election Office has informed their representative that they failed to produce 300 voter signatures for their nomination petition.
Fatumalala said she has tried to return home on time and even asked for an extension to file their nominating petition because of the suspension of  flights to the territory.
But the Election Office has not responded.
Fatumalala said, "What I have experienced in this election is pure injustice and discrimination against women who dare to make a difference. Covid-19 proved that we as American Samoans are still in the same old ways of wayward and unfair systems that overrule the simple acts of humanity, justice and love. How is it that some were allowed to go back home on special flights to attend to their campaigns while the less recognized were never allowed? Is it not the sole responsibility of the candidate to walk the villages and get her signatures, but we were literally deprived of this liberty."
The team is requesting that the Election Office reconsider.
"I am writing you the Director of Election to please consider our situation. We are unable to be there in person, and whatever 300+ signatures we have turned in should count toward our peculiar circumstance."
Candidates stuck off island who are on the ballot after successfully filing their nomination petitions include Meleagi Suitonu Chapman in the Congressional race, Tupua Shaun Vaa, Logoituau Mark Atafua and Vui Florence Saulo in the House of Representatives election.