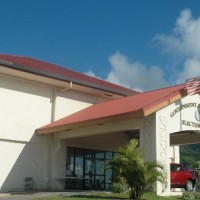 Four teams have been cleared for the 2020 gubernatorial race, three candidates are approved for the congressional election and 51 men and women will vie for 20 of the 21 seats in the American Samoa House of Representatives.
The official list of candidates was released this evening by Chief Election Commissioner Dr. Lealofi Uiagalelei.
In the race for governor and lt governor one of the teams that had announced their intention to run and was supposed to be the first all female team, Fatumalala Al Shehri and Leah Smith, did not make the official list.
The four teams for the election of Governor/Lt Governor are:
Gaoteote Palaie Tofau & Faiivae Iuli Alexander Godinet
I'aulualo Fa'afetai Talia & Tapaau Daniel Mageo Aga
Le manuPalepoi Sialega Mauga & Talauega Eleasalo Vaalele Ale
Nua Sao & Tapumanaia Galu Satele Jr.
Missing from the list of candidates for the congressional election is Supply Seau who had publicized in the media that he would be running for American Samoa's seat in Congress.
Those cleared to be on the ballot for the election of Delegate to the US Congress are:
Aumua Amata
Meleagi Suitonu Chapman
Oreta Crichton
20 incumbent members of the American Samoa House of Representatives are seeking reelection. No one is running unopposed. The 21st seat which is for Swains will be selected through consensus at a meeting of Swains islanders.

There are 8 women among the 51 candidates for the 2020 House of Representatives election.

Click on the link for the complete list of candidates as provided by the Election Office. determination-of-candidates084

Tags: