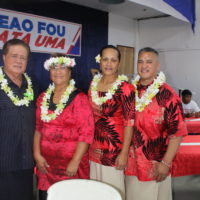 Candidate for governor, Senator Nuanuaolefeagaiga Saoluaga Nua speaking before relatives, friends and supporters who attended the Nua and Satele campaign kick off last Saturday at the Samoa Sports Center.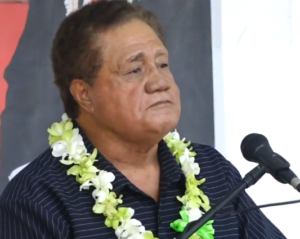 The Senate President Pro Tem said now more than ever American Samoa needs honest leaders who will ensure that resources received by the government will benefit all, not a select few.
He said dishonest leadership, wasteful spending, lax enforcement of laws and lack of cooperation between the executive branch and Fono have embarrassed people of American Samoa here in the territory and off-island.
He said the territory also needs leaders who are accountable to the people, who will keep the people informed of their decisions and not keep them in the dark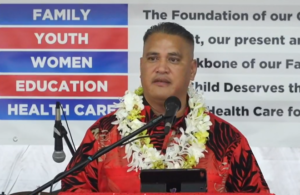 Nua said he and lt governor candidate Tapumanaia Galu Satele will seek the wishes and input of the people and use their opinions to formulate their decisions.
Nua and Satele were the first to announce their candidacies last year,  and in the last ten months they have walked villages, and visited homes throughout the island, seeing the struggles that many families are facing, as Tapumanaia described.
Tapumanaia said these are the same conditions that Nua saw when he ran as the lt governor candidate to the late Utu Abe Malae.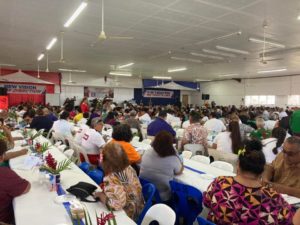 Stressing that leaders should be servants of the people, Tapumanaia, currently deputy director for the Office for the Protection and Advocacy for the Disabled told  the crowd they and their wives, don't have a large entourage following them around for a reason.
The youth featured prominently in the kick off event for Nua and Satele, not just for entertainment but also testimonials about the candidates.
Kanoelani Satele and Sweetheart Nua took the podium to speak about their fathers.
For the introductions, the wives of the two candidates Mrs Cassandra Fa'asilitamaita'i Lagafuaina Solaita Satele and Mrs Usuimalo Tulemoso Matagi Ah Soon Nua introduced their husbands.
The emcee was the Chairman of the Nua and Satele Campaign Committee Leifi Aliitama Sotoa and prayers were offered by Rev Elder Ekitoa Sopoaga and Patriarch Andrew Autele of the LDS Church.

Tags: