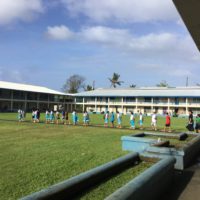 All public schools and nearly all private schools are reopening today small schools will have in person classes Monday to Friday as usual but schools with enrollment of 500 and up will have hybrid classes, a combination of in person and online classes.
Director of Education Dr. Ruth Matagi Tofiga said at yesterday's Coronavirus Task Force meeting that they still have not received essentials for the schools such as chairs, laptops, chromebooks and other supplies.
She said she has been personally following up and doesn't know what the hold up is.
She also reported that teachers who were in workshops for the summer have not received compensations.
According to reports from some private schools they were also awaiting equipment that DOE was to supply for virtual classes and they may have to make changes to the hybrid class schedule until the equipment is delivered.