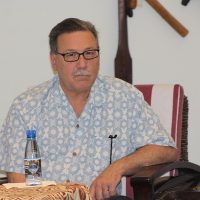 American Samoa is receiving $713,125 in grant funding for FY2020 through the U.S. Department of the Interior's Office of Insular Affairs' (OIA) Maintenance Assistance Program (MAP).
The Trump Administration is awarding a total of $4,516,535 to support the U.S. territories of American Samoa, Guam, the Commonwealth of the Northern Mariana Islands, and the U.S. Virgin Islands.
This MAP funding will also support the freely associated states of the Federated States of Micronesia (FSM), the Republic of the Marshall Islands (RMI), and the Republic of Palau.
American Samoa Power Authority (ASPA) – $383,500 will be used to re-roof the existing auto shop and make expansions to include extra bays and shelter for ASPA fleet and heavy equipment. Funds will also be used to provide training of mechanics and purchase specialized power tools, jacks, vehicle lifts, and a caterpillar diagnostic scanner.
American Samoa Department of Public Works – $329,625 will be used to support an ongoing Trades Apprenticeship collaboration with the American Samoa Community College and replace aged ceiling fans in school and administrative buildings across the public-school system. Funds will also be used to upgrade and replenish the maintenance division's tool inventory.
"The Secretary and I are pleased to provide this funding support for training, equipment, and maintenance across the insular areas," said Interior Assistant Secretary, Insular and International Affairs, Douglas W. Domenech. "The improvements provided through these funds for facilities maintenance at various water and power utilities, public works departments, public parks, police department motor pools, and emergency services will greatly benefit the public."