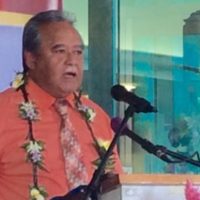 The following statement was issued by the Governor's Office this morning:
"Chief of Staff Fiu J. Saelua regrets the unfortunate consequence of the unfortunate and unintended incident which involved the two local Army reservists being pictured with the Chairman of the local Democratic Party during its National Democratic Convention Roll-Call.
"It is certainly lamentable because it casts unfavorable dispersion on the perceived association and connection by our Governor with this issue," added the Chief of Staff.
"For the record, Governor Lolo Matalasi Moliga declared himself as an Independent since he became Governor on January 3, 2013.  This decision reflected Governor Lolo's commitment at the onset of his administration not to let party politics become an impediment in the Territory of American Samoa receive maximum support from Washington D.C. to address the needs of our people.  The assertion that Governor Lolo Matalasi Moliga was aware and in support of this action because the Chairman works at the Governor's Office is ludicrous and baseless.
"The Territory of American Samoa is exceedingly proud and boastful of its rich and honorable military history given that it holds the distinction of having the highest per capita of voluntary enrollment in the Armed Forces of the United States. Thus it is disappointing and regretful that this has happened, as the intent was one of pride and patriotism and not political since we do not vote in the national elections," concluded Chief of Staff Fiu J. Saelua.