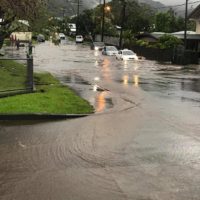 Flooding caused by heavy rainfall last night had small Sedans submerged in flooded hotspots in Tuala-uta.
The water was up to the windows of small vehicles in front of the LDS Stake Center in Ottoville , and also on the back road near Nazareth House and the Craddick cemetery.
It was the same scene on the lower golf course road.
And the Fagaima road resembled a river for much of the day.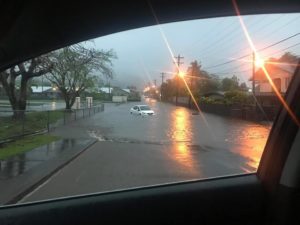 The water receded in front of the LDS Stake Center in a few hours but the Fagaima road was under water even up to  late this afternoon.  Representative Larry Sanitoa who was at the site said that DPW had to close one lane.   Contractor Silva Construction will not be able to fix the potholes and sides of the road which have disintegrated until there is no more runoff water, he said.
The Tuala-uta faipule requested Public Works to place road closure signs in the worse affected areas in front of the Salelea home, next to the Fagaima Methodist Church.
Photos:Faafua Cummings, Rep Larry Sanitoa