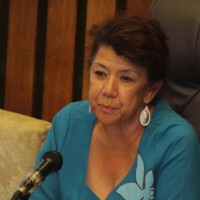 Port Director Taimalelagi Dr Claire Poumele says clearance was given to the sailboat MV Galatea to enter Pago Pago Harbor because it was in distress.
The sailboat has three US citizens on board and it is now moored at the quarantine buoy near Pago Pago.
Harbor Master Silila Patane had refused to grant permission to enter to the captain of the Galatea despite the captain's plea that their yacht was taking on water.
Patane's explanation for denying the yacht entry was to protect the territory from coronavirus.
The Department of Health checked the three occupants, the male captain and two females, and they reportedly showed proof of negative COVID-19 tests.
Nonetheless swabs were taken and they did not exhibit any symptoms of coronavirus.
The yacht however failed to produce a clearance from its last port, Hawaii.
The Port director said in response to KHJ News queries that the reason why the yacht was cleared to come in to port is because it was in distress.
A resident yachtsman told KHJ News that if the sailboat was not allowed to come in it could have sunk resulting in a loss of lives, or it could have drifted to shore and would have come into contact with villagers.
He said if the people on board carried the virus this would have exposed locals they came into contact with.
He said it was a tough call but maritime law requires that any vessel in distress should be given assistance by the nearest port.