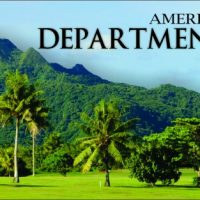 The actual count of the territory's population will be known when the results of the 2020 Census of American Samoa are finalized but if the mid year population estimates for 2020 is nay-thing to go by, our population is diminishing..
The mid year population released today by the Department of Commerce is 57,637.
Constant decline in fertility throughout the decade and net outbound movement of residents continued to add to the population decline.
The population estimate is derived from the balancing equation method by adding the natural growth, that is births minus deaths and net migration of residents and immigrants.
The number of babies born in the territory again dropped to less than  900, while  there was an increase in deaths, over 300, resulting in an average natural growth of about 600.
The fertility rate continued to drop throughout the last ten years while more and more residents moved off island
The population estimate lists 20,138 males and 26,501 females.
The largest age group is the 25-64 year olds which numbered 26,241.
The 6-13 year olds numbered 9,976, the 14-18  year olds totaled  6,464 and the 19-24 year olds numbered 5,140.