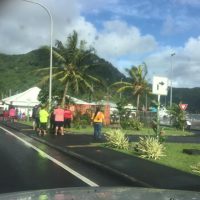 ASG agencies spearheading the Island Wide Clean Up say there's less littering across the island.
They believe this is because residents are seeing the government's efforts to beautify the island each month, the enforcement of littering laws and people taking pride in keeping our island liter free.
This Friday is the monthly clean up by ASG led by the Island Wide Clean Up Committee.
Deputy Director of the American Samoa Environmental Protection Agency Lealasola Will Sataua says the Department of Public Safety is the go to agency if you see people throwing trash outside cars and buses.
Play Audio