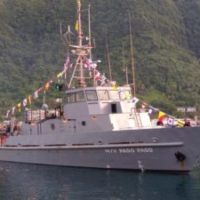 The government is paying for the transport of cargo to Manu'a on the privately owned MV Pago Pago. However, the same service that was provided by Manu'a fishing boats when the MV Manu'atele was damaged is not being compensated.
Manu'a faipule Tiaoalii Fau Sai whose fishing boat made several trips to transport cargo to Manu'a when the MV Manu'atele stopped operating and commercial flights to Manu'a were suspended due to the COVID-19 pandemic, asked Treasurer Ueligitone Tonumaipe'a if CARES Act funding can be used to compensate for the service of Manu'a fishing boats.
The Treasurer answered no and the reason he gave is because the US Coast Guard doesn't authorize alia to transport cargo.
When Tiaoalii asked if ASG was paying for the MV Pago Pago to take cargo to and from Manu'a the Treasurer replied yes.
Tioalii called the treasurer on his conflicting reply pointing out that the MV Pago Pago is also not cleared by the Coast Guard to carry cargo yet it is being paid by ASG.