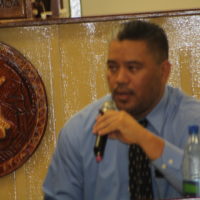 When Deputy Treasurer Keith Gebauer and Chief of Customs Elisara Elisara appeared at a House hearing last week, lawmakers wanted to get their take on why drugs continue to proliferate the island when flights have been suspended for now going on five months.
Gebauer testified that there needs to be a community approach to fighting the drug problem pointing out that there are various components involved such as the legislative side, enforcement, adjudication by the courts and treatment of drug addicts.
He said one thing that is hardly mentioned is that drugs are big business.
Play Audio
In response to questions from Rep Alexander Jennings, Gebauer explained that while they do not comment or publicly release information, they record all illegal drugs found during their inspections at the port of entries.