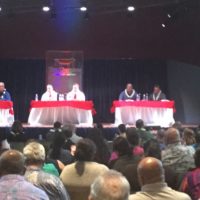 The gubernatorial teams that participated in the Chamber of Commerce, "Lets Talk Business Forum," at the ASCC Multi-Purpose Complex last Thursday, expressed differing ideas on the topic of developing the territory's tourism industry.
The question was: "The tourism industry has not seen much growth in American Samoa. If elected, what changes will you commit to in the tourism industry and how will you implement them within the private sector?"
Candidate for Lt Governor Talauega Eleasalo Ale answered the question for the Lemanu & Talauega team.
Play Audio
Talauega added that one thing that he and Lemanu can promise is that they will work closely with the Chamber and private sector to look into these ideas, adding they are not "closed to anything." He said their team has issued their platform on how to build tourism and invited everyone to check it out.
Candidate for Lt Governor Tapumanaia Galu Satele gave the Nua and Satele reply.
Play Audio
The final answer came from Candidate for Governor Iaulualo Faafetai Talia of the Iaulualo and Tapaau team.
Play Audio
Tags: