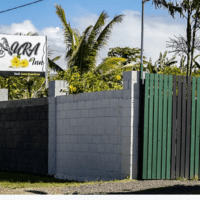 Health authorities in Samoa have appealed for village council support in curbing youth trying to force their way into quarantine sites housing repatriated Samoans from New Zealand.
The Samoa Observer reports that Assistant Chief Executive Officer of the Ministry of Health, Mae'e Ualesi Falefa Silva during a radio program appealed for parents to look out for their children and for village councils to step in where they can.
"We've noticed that some of the youth are trying to attack the quarantine sites where passengers are being quarantined," she said.
She said it is everyone's responsibility and obligation to watch out for quarantine sites housing returned citizens.
Mae'e also voiced concern at some people using abusive language when they call a COVID-19 toll free helpline.
She asked that callers show respect to health staff manning the lines. Mae'e said staff were subjected to abuse by anonymous prank callers.
Most of the callers are young people but there have also been calls from adults.
"It is very important for us to provide you with the information especially if it's about our quarantine sites and more so that we can understand and be aware of them," she said.
Photo: Samoa Observer