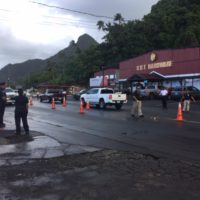 Those who shopped at stores or ate at restaurants at Laufou over the weekend did not face any traffic restrictions at all. Motorists were able to enter and exit like before.
Buses were still unable to stop at the site of the bus stop hat has been removed.  The pull out to the bus stop has been cemented over as part of the sidewalk.
But this morning the cones were up again and vehicles had to adhere to the recent rules.  That is only east bound traffic can enter the Laufou entrance,  and all exiting vehicles could only turn right, no left turns allowed.
Terry Tofaeono, General Manager of Forsgren Ltd said the Attorney General's Office requested a meeting with the owners of Laufou today however the meeting was cancelled.
Tofaeono said that they were told that the government did not give details of what they wanted to discuss at the meeting.