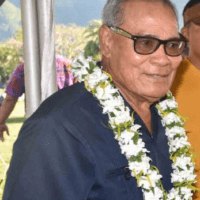 Code Blue restrictions continue in the Seventh Amended Public Health Emergency Declaration for coronavirus issued today by Governor Lolo Moliga.
Business hours remain at 5am-9pm except for StarKist Samoa and related businesses.
Public gatherings  including religious worship are open from 5am to 9pm. There's no limitation on the number of people allowed at public gatherings.
Public transportation services will operate from 5am to 9pm and buses and taxis can only carry half their seating capacities.
All public schools, private schools, daycares and ASCC are reopened and summer school programs are allowed.
The opening of schools for the 2020-2021 school year is athorized for all schools. Public schools will begin classes on August 31.
Hawaiian Airlines flights remain suspended for an additional 30 days with reconsideration slated for September 1.
From August 1-17 Samoa Airways and Talofa Airways will be allowed to transport from Samoa, medical, technical, skilled workers and other specialized workers requested by local companies and approved by the governor. Otherwise flights by the two airlines are suspended unless there's an emergency need.
Entry requirements for all travelers entering the territory are that they provide a negative covid-19 test result within 72 hours before arrival.
Newly added is that the traveler is required to disclose if he/she had a positive test result prior to testing negative.
All non medical personnel are subject to full quarantine of 14 days.
All returning medical referral patients are subject to screening and quarantine at the discretion of DOH physicians but guided by established criteria to determine who is to be fully quarantined and when the person is to be releasd from quarantine.
For Covid–19 related workers, quarantine will not be imposed but monitoring by the Department of Health will be conducted for 14 days.
Private flights to drop off equipment and supplies will be allowed to land but no one can disembark and the aircraft cannot overnight.
If occupants request an overnight stay they must be subject to the 72 hour covid-19 testing with negative results, which must be provided to DOH prior to arrival.
No private flight will be allowed to land if it does not have an approved forward plan guaranteeing landing authorization at the nest or final destination airport.
Requests for transporting human remains  will be considered on a case by cases basis approved by the governor.
The new declaration is in effect for 31 days beginning tomorrow August 1.
Click on the link for the complete declaration7th-declaration-for-covid19