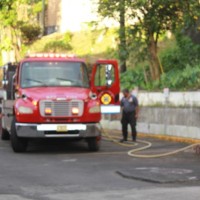 If a bill now before the Senate is approved, the territory will have an independent, stand alone Fire Department, separate from the Department of Public Safety.
Sponsored by Senate President Gaoteote Palaie Tofau, the bill proposes that all insurance policies shall include an additional $20 for non commercial motor vehicles, $50 for fire home insurance, $50 for commercial vehicles and $100 for commercial insurance coverage.
The insurance companies shall remit these funds quarterly to Treasury which will set up an enterprise fund account to deposit these monies to fund the operations of the Fire Department.
The bill provides three methods of fire protection:
Maintaining a Territorial Fire Department,
Supporting a Volunteer Fire Association or
Contracting with other governmental units for fire protection service.
The department will be headed by a Fire Chief appointed by the governor and confirmed by the Legislature.

It will be staffed by firefighters who are required to undergo and pass an annual medical examination.

They must be physically fit, be able to climb ladders, operate from heights and walk or crawl in the dark along narrow and uneven surfaces.

Tags: