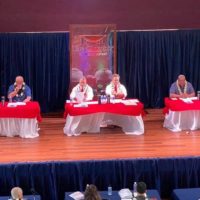 One of the questions that the three gubernatorial teams who participated in the forum hosted by the American Samoa Chamber of Commerce last evening was a topical one relating to government procurement. John Raynar, one of the three moderators of the forum asked the question.
Play Audio
Candidate for Governor Nuanuaolefeagaiga Saoluaga Nua of the Nua and Satele team answered the question in Samoan.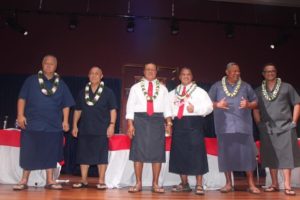 "It's hard for companies to get jobs if there are flaws in the bidding process. If Nua and Satele are elected we will select the right person, someone who is honest to head this office and enforce the procurement law for the benefit of the territory. The law is good and sufficient but it's not being followed by he director and staff. This is why there are complaints from companies. We will hire a director who is honest and speaks the truth and not change their answers every time."
Candidate for Governor Iaulualo Faafetai Talia of the Iaulualo and Tapaau team was the next to answer.
Play Audio
Candidate for Governor Lemanu Peleti Palepoi Sialega Mauga answered the question in Samoan: "In all honesty, as others have stated procurement law is set and must not be violated by the government. There's is no one in this whole government who is above the law starting from the governor down to the janitor. The law is there for everyone. If we are successful we will apply the law equally to everyone."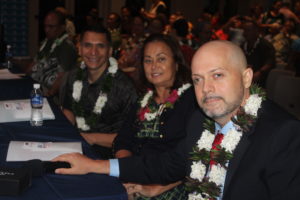 Moderator Lydia Faleafine Nomura asked the second question relating to procurement.
Play Audio
Candidate for Lt Governor Talauega Eleasalo Ale of the Lemanu and Talauega team got to answer the question first.
Play Audio
Nuanuaolefeagaiga answered the question in Samoan:
"The problem is even though the executive branch is aware this is happening, it isn't taking any action to address it. This is why such practices are continuing. The executive branch is unable to enforce the law, so there's no accountability, each person does their own thing. Its been eigth years and nothing has been done. The Fono has passed laws but they are just sitting there and not being enforced."
Candidate for Lt Governor Tapaau Dr Daniel Mageo Aga gave this answer.
Play Audio
KHJ News thanks Aaron Hall and 684 Media for providing audio of the forum.

We will feature clips of the forum in future bulletins.

Tags: