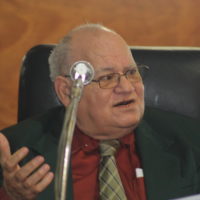 Manu'a Senator Logoai Siaki didn't mince words when he told members of the Coronavirus Task Force they should not allow anyone traveling from Hawaii into the territory but FEMA officials.
In a loud voice he said mothers, fathers and children of American Samoa who have been stuck in Hawaii have been crying to come home but they are being kept out, yet the governor and task force are letting veterans return.
Play Audiologoai-ire
Logoai told the CTF Chairman Iulogologo Joseph Pereira and Health Director Motusa Tuileama Nua that they should stop everyone from entering, except FEMA.  The two were testifying at a Senate hearing on COVID-19 related preparations.
The main topic that senators asked about was the FEMA agent who had been returned on the flight she arrived on because she had tested positive for a previous coronavirus test a few weeks before she arrived here.
Health Director Motusa said the woman had a negative covid test 72 hours before she arrived but she didn't have a medical report and it was only during questioning by DOH staff at the airport that her previous positive test was discovered.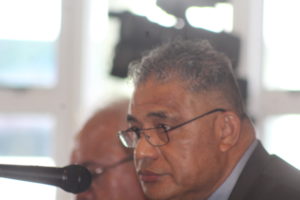 He told senators DOH will be making a change to entry requirements  to avoid a repeat of what happened with the FEMA agent.
The only two passengers who traveled with the FEMA contractor on July 17th was a returning veteran, Rep Faimlealelei Anthony Allen,and his wife.
Motusa explained that veterans are referred by the local VA doctor for medical appointments in Hawaii. Their return to the territory Is a decision by the VA and FEMA . DOH requires that they have a negative COVID 19 test 3 days before they arrive in the territory.
Senator Logoai said if travelers from Hawaii are prohibited from entering American Samoa, the same rule should apply to veterans.  He said if veterans want to go off island they should stay there and not be allowed back in because they may bring back the virus with them.
He asked what's so important about veterans when we have so many of our people crying to come home to their families but the Task Force and the governor is stopping them?
Senate President Gaoteote Palaie Tofau echoed Logoai's concerns. He said there have been many complaints directed at the Senate from residents who cannot return home.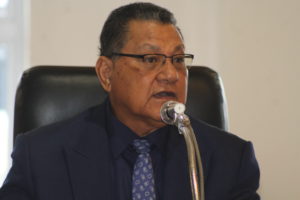 He said it was unsettling to hear a statement that the FEMA flights bring important people to the territory. Gaoteote asked so important people will not get the virus?
He said it's through lapses in enforcement of the protective measures that will allow the virus into the territory.
Senator Satele Galu Satele was adamant that the only way to stop the virus is to close the airport  and not let anyone in or out.
Referring to those who left on the medical charter last week Satele said they traveled to the virus.
He said all of the government's preparations, equipment and facilities will be for naught if there's one case of cornavirus on the island.  "Our small population will be gone," he said.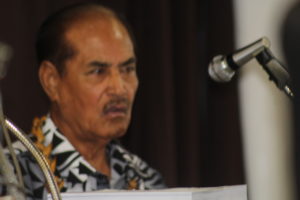 Satele did not have much faith in people observing rules at the quarantine sites. "Our people are hardheaded and  will defy the rules. You lock them down for 14 days, they'll find a way to get out and roam around, unlike palagis who will obey the rules."

Tags: