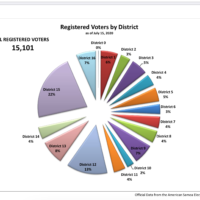 The number of registered voters recorded by the Election Office as of July 15 was 15,101.
District #15, Tuala-uta:Tafuna, Mesepa, Faleniu, Mapusaga,Pavaiai, Iliili and Vaitogi, had the highest total-3,186. District #12 Ituau:Nuuuli, Fagasa, Matuu and Faganeanea had 1,956 voters, followed by District #13, Fofo: Leone and Auma with 1,138 voters.
District #9, Pago Pago had 963 voters, District #16, Tuala-tai: Futiga, Taputimu and Vailoatai had 949 and District #1, Manu'a #1:Tau, Fitiuta and Faleasao had 816.
For the rest of the districts:
District #2 Manu'a #2-Ofu, Olosega Sili:474
District #3 Vaifanua-Alao, Aoa, Onenoa, Tula and Vatia:786
District #4 Saole -Aunuu, Amouli, Utumea and Alofau:535
District #5, Sua #1-Laulii to Fagaitua:656.
District #6 Sua #2-Sailele, Masausi, Masefau and Afono:460
District #7 Ma'uputasi #1-Fatumafuti, Fagaalu and Utulei:547
District #8 Ma'uputasi #2-Fagatogo:583,
District #10 Ma'uputasi #4-Satala,Atuu and Leloaloa:339
District #11 Ma'uputasi #5-Aua:565
District #14 Alataua-Asili to Fagamalo:579
District #17 Leasina-Malaeloa, Aoloau and Aasu:559
There are more female registered voters than male voters. Females make up 55% of the total number of registered voters while male voters make up 45%.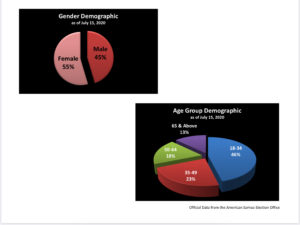 The largest voting age group, 46%, are the 18-34 year olds, followed by the 35-49 year old voters at 23%, the 50-64 year old voters constitute 18% and the smallest category of voters are the 65 and above age group making up 13%.
The last day to register to vote is October 5.
Graphics: Election Office