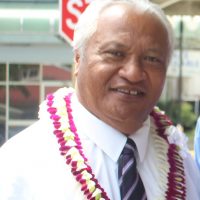 Can the Election Commissioner make changes to election law without legislative action?
That's a question House Speaker Savali Talavou Ale is looking into after hearing an announcement from the Election Office that voters who are stranded off island due to the suspensions of flights because of the coronavirus pandemic can apply on the Election Office website  to vote absentee.
The speaker said the announcement on KHJ News was the first he'd heard of this change.
He said he intends to raise the matter with Governor Lolo Moliga and Election Commissioner Dr. Lealofi Uiagalelei.
KHJ News reported two weeks ago  that Election Commissioner Dr Lealofi Uiagalelei had written to Governor Lolo Moliga July 13 stating that after consulting with the Election Office Legal Counsel and leadership team, they have agreed it would be best to  include in the category of off island absentee voters, registered voters currently stuck off island due to COVID-19
He said specific policies and procedures will outline the process for the category of active registered voters stranded off island due to coronavirus .
Uiagalelei said he has also allowed registered voters intending to run for public office but are stuck off island to announce their candidacy and follow criteria to get on the ballot from off island.
However if the borders are opened and the voters and intending candidates return before the general election on November 3rd, these provisions will be cancelled.
Speaker Savali said there's been no discussion about the changes and he intends to find out more information from the governor and Election Commissioner.