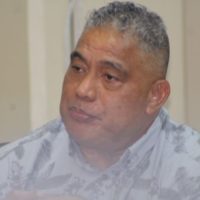 Employees of the Department of Health who regard themselves as frontline workers in keeping the territory coronavirus free are not happy that  doctors, nurses, and managembnt staff of the department have received hazardous pay while they are still waiting.
The disgruntled group includes employees stationed at the airport and port, drivers as well as janitorial staff and others at the quarantine sites.
According to senior employees in the group, they have worked tirelessly since the start of the pandemic four months ago, leaving their families and even putting their own lives at risk tending arrivals at the airport and vessels at the port but doctors and nurses have been paid and not support staff whose work is as critical as the medical staff.
Reached for comment Director of Health Motusa Tuilema Nua said DOH is working on hazardous pay for the support staff at the airport, port and the quarantine sites.
He said the first round of payments was for doctors, nurses and nursing assistants who were conducting the coronavirus tests and on duty at the quarantine sites. They were called into work evenings and weekends.
He explained that DOH couldn't pay everyone at a the same time because of the limited funding but assured that all support staff will receive compensation.
Asked if the hazardous pay is standard for all employees or the rate depends on the person's position, Motusa only said everyone will be compensated.  Reports says the hazardous pay ranged from $1000 to $3,000.