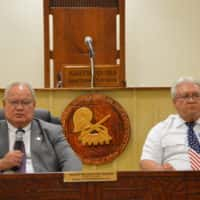 The Department of Public Safety has made a down payment for two new fire trucks from the mainland.
Commissioner of Public Safety Le'i Sonny Thompson testified before the House Public Safety Committee last week that the Treasurer has remitted funds for a down payment for both a 750,000 gallon and a 1,000 gallon fire truck to a US company, and a copy of an email confirming the down payment was distributed to Committee members.
The new fire trucks will be for Tutuila.
Manu'a Representative Tiaoalii Fau Sai said the two firemen who were killed in the recent accident were close colleagues and friends of his. They were part of a volunteer team that battled forest fires in California once.
He said it's not a secret that the fire truck involved in the accident was old and its life expectancy had expired. The first term lawmaker referred to a previous hearing where he asked what the life span of the fire trucks were and was told 10 years. To which he said "so you're waiting for someone to die or an accident to happen before you act?"
He told the commissioner that as a person who served in the military Le'i should know about improvising. Tiaoalii suggested installing water tanks on the department's F150's to help put out fires.
During the confirmation hearing for Alfonso Pete Galea'i as Director of Homeland Security, Tiaoalii brought up a statement by his predecessor Samana Semo Ve'ave'a that funds were available to purchase new fire trucks.
Vice Speaker Fetu Fetui asked Fire Chief Cliff O'Brien if there were any plans to acquire fire trucks for Manu'a.
O'Brien said the department is searching for funds for smaller fire trucks for Manu'a but perhaps this would be possible in the new year budget.
The Vice Speaker said House members have discussed untruthful testimony by witnesses during hearings and told O'Brien that he will hold him accountable for his statements.
Commissioner Le'i appeased the Vice Speaker saying that the port director had reported at the recent cabinet meeting that two new fire trucks would be purchased, one for Tau and the other for Luanu'u (Ofu and Olosega).