The government's plans to allow a company to use government lands near the Veterans Memorial Stadium to build a solar farm faces a setback after the Senate tuned down a 17 year extension to an existing lease with the company, Malosi LLC.
Senators voted unanimously today to reject the lease.
The company's existing lease with ASG is one day short of ten years, but it was exercising the option to extend the lease term for 17 years plus one day.  The acreage covered in the lease is over 20 acres.
Acting Attorney General Mitzie Jessop Taase and Director of Commerce Keniseli Lafaele testified on the lease at a hearing of the Senate Budget and Appropriations Committee earlier this morning.
The acreage includes land that is  the subject of a long standing legal battle between the government and the Lemeana'i family of Iliili.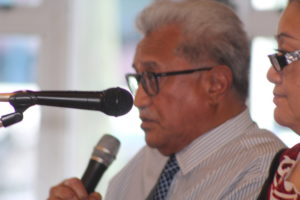 According to a summary by the Acting AG, in 1960 the government condemned 553 acres of land to build the airport and roads for the territory.  Copies of a document showing that the government paid just over $18,000 to the family, was distributed to senators.
It came out in statements by senators this morning that since the government is using the land for other purposes, for example leasing the property to private companies,  the family wants their lands returned.
Tuala-uta Senator Magalei Logovii who chaired the hearing said family members have approached him for help in stopping ASG from taking their land.  They want the unused portion of their land returned.
Senators advised that the government should work with the Lemeana'i family to try and come to an agreement and until then any lease should be put on hold.
Malosi LLC is a Canadian company with local affiliates however the names of the local principals were not disclosed at the hearing though DOC Director Lafaele said he would provide the names to the committee later today. (Lafaele whose testimony was in Samoa has clarified that what he meant is that the company has local affiliates and subcontractors who will work on the project. The company dies not have any local partners.)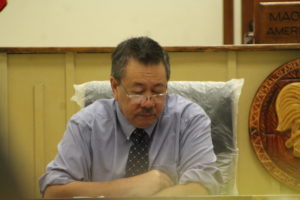 During a hearing of the House on the same lease yesterday,  Acting CEO of ASPA Wallon Young explained the company's plans.
Play Audiowallon-solar
Director Lafaele told senators ASPA cannot build such a huge project on its own, and this is why it opted for the power purchase agreement with the company.
The lease rate is 15 cents per sq ft. for an annual total of $134,477 to be paid in quarterly installments of $33,619.