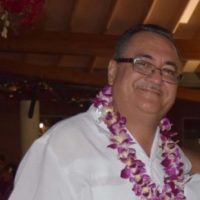 The governor is submitting for Fono confirmation the name of Tialuga Vincent Iuli as Director of the Office of Public Information/KVZK-TV.
Governor Lolo Moliga said in his letter of nomination that Tialuga is well versed in the management and operations of OPI.  As deputy director of the office since June 2013, he was responsible for building up the staff through workshops and seminars to ensure that employees had the proper skills to execute its mission  This was in addition to his many other administrative and strategic responsibilities within OPI.
Lolo added that Tialuga has performed admirably in previous public service positions as the Governor's Press Officer and as marketing specialist at the American Samoa Telecommunications Authority.
"Tialuga's experience will be an asset for the office as the administration moves towards transition," said the governor.
He urged Fono leaders to review the nomination and confirm Tialuga as director.
Tialuga replaces Tuimavave Tauapa'i Laupola who is now Acting Chief Procurement Officer.