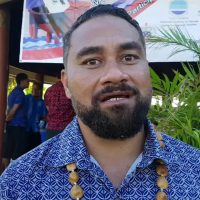 The Office of the Samoa Electoral Commission is asking families to tie a white flag outside their homes to indicate they have family members who need to be registered for the 2021 General Elections next April.
Electoral Commissioner Faimalomatumua Mathew Lemisio told Samoa Observer that the door to door registration campaign seems to be succeeding after close to 500 signed up from only two villages.
"We are expecting that number to grow as we go around the country," he said.
He added that while it has been successful, there have been challenges along the way but they are managing them.
Some families still hang out the white flag but they have all been registered and take up a lot of time.
Faimalomatumua also said some aspiring candidates have been gathering and transporting eligible voters to one place for registration which is illegal.