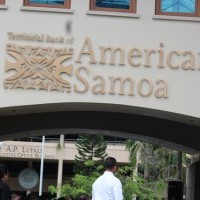 Commercial and consumer deposit accounts at the Territorial Bank of American Samoa are now being secured in a unique program by pledged assets of the bank to a maximum of $250,000 per tax identification number.
TBAS says this program has been established by the bank in order to provide security assurance to deposit customers who receive FDIC insurance in other banking institutions.
It ensures that bank assets are specifically allocated and pledged to providing deposit coverage.
The coverage is only available to commercial and consumer customers and is not intended to protect any owner or owners of the bank.
TBAS will continue this program until it acquires FDIC insurance.
"We are pleased to be able to offer this as an alternative to FDIC insurance and look forward to addressing any concerns or questions you might have," says a press release from TBAS.
TBAS provides a full line of banking products and services including checking, savings and time deposit accounts, online banking, and consumer, residential and business loans along with SBA PPP loans until August 8, 2020.
The bank's new MasterCard debit/ATM card will be available August 2020.
Visit www.mytbas.com or call  (684) 633-8143 for more information.