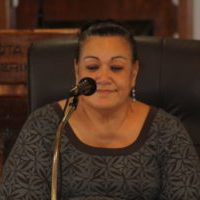 The Senate yesterday approved by unanimous vote the governor's nomination of Mitzie Jessop-Taase as Attorney General of American Samoa. The vote was 16-0.
During the last Fono session the Senate also voted unanimously to confirm Jessop-Taase who served as legal counsel to the Senate for many years. However the House turned her down twice and this prompted the reintroduction of her nomination in this new Fono session.
The House was scheduled to hold a confirmation hearing for Jessop-Taase Friday however it has been rescheduled to next week. If approved she will become American Samoa's first female Attorney General.