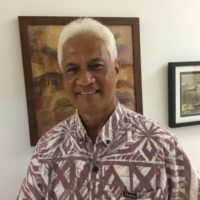 Tuala-uta Representative Larry Sanitoa is returning the $10,000 check that he received for an office from COVID -19 funds.
Sanitoa said in a statement that he was not aware nor had any prior knowledge of these funds being made available for Fono members.
"We were told by the Speaker that the funds were to set up office space or to make improvements to member's home offices in case there is a change in the Code Declaration, requiring members to work from home and communicate online for virtual sessions and/or committee hearings," he said,
It was also explained that the funds may be used for district needs.
Rep Sanitoa said he met with the Fono legal counsel, Mr. Nathaniel Savali on Monday, to review the legality of and get clarification on using these funds for office space and district needs.
He pointed out that in the last session, the Fono requested an opportunity to review and appropriate with stipulations the CARES Act funds which ASG received in accordance with the Budget Procedure Act, ASCA 10.0501.
Accoridng to the Tuala-uta lawmaker questions on the use of these funds would have been better answered if due process of holding committee appropriation hearings as required by law had been followed.
Sanitoa stated, "I am extremely disappointed on the lack of communication and/or obtaining the Fono members input on this important issue – as we are now faced with answering questions and ridicule from constituents, plus having to defend something we had no knowledge of.
"After further review on the legality and given the lack of clarity on the accountability on the use of these funds, I have decided to return the $10,000."