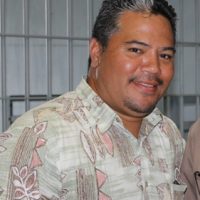 The third release of Economic Impact Payments or stimulus checks by the Department of Treasury will include checks for those who are non filers of income tax because they don't have any income or their income is very small.
Since Treasury announced last week that this group is eligible for a stimulus check, about 200 people per day have been going to the Tax Office to check if they qualify.
Deputy Treasurer Keith Gebauer says staff are able to determine eligibility right away.
Not having a Social Security number is one of the common reasons why a non filer would not be eligible.
Other than having a Social Security Number, applicants must be a US citizen or US national or a legal resident alien with a valid 2020 American Samoa Immigration ID card.
They must also not be claimed as a dependent by another taxpayer for tax years 2018 or 2019.
And they must not have been incarcerated.
Gebauer says the turn out of non filers is much higher than they expected and he indicated that its possible they may have to request US Treasury for additional funding to cover EIPs over the balance of just over $2 million leftover from the payments of the first, second and special release.
US Treasury had advanced to ASG $37.2 million for the stimulus payments.
Individual tax payers receive $1200 while couples who file jointly receive $2400 plus $500 for each child under 17.
Other than the non-filers those who should look forward to getting a stimulus check in the third release are those who filed up to the July 15 extended deadline, and anyone whose tax return was in error. For example they didn't have the right amount of children or missing a signature.
The Tax Office has been contacting those with error status using information on their tax return.
The third release of stimulus payments is scheduled for July 30th.