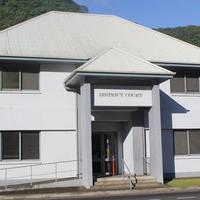 A former Territorial Correctional Facility guard who demanded money from his bedridden mother and
threatened to assault his brother with a knife is behind bars
Samoa News reports that Wallin Fanene is facing a charge of third degree assault and private peace disturbance, both misdemeanors, for threatening his brother and his mother.
Police were called to investigate a complaint against a man shouting obscenities inside his home at Malaeimi.
According to Police, Fanene had come home and went into his mother's bedroom demanding $200 dollars to buy food for his children.
When his mother told him she didn't have any money he started shouting profanities at his brother who was in the kitchen.
Police found the defendant in his mother's bedroom where they arrested him as he continued hurling the abusive language.
Police said according to the mother's statement, Walling had gotten angry and used abusive language towards her and also against his brother.
He also accused his mother of not caring for him and his children.
Police arrested Wallin on the night of the incident and he remains in custody.