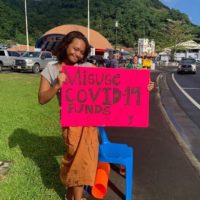 The $20,000 checks for Fono leaders and $10,000 checks for senators and representatives from COVID-19 funding is the target of a peaceful protest that started before daylight at the Fagatogo malae this morning.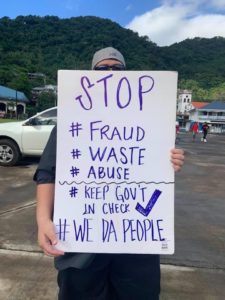 As we reported last week the checks are to pay for offices of lawmakers while the new Fono building is under construction.
The organizer of the protest is Aitofi Solipo of Fagatogo, a counselor at Matafao Elementary School.
Play Audioaitofi-protest
Ms. Solipo said one of their goals is to report the spending of the COVID-19 funds to the feds and this process has been initiated.
The checks for the lawmakers' offices came from the $35.1 million awarded to ASG under the CARES Act.
According to a statement from the Governor's Office at the time the grant was awarded, payments will be made directly to a defined unit of local government that has submitted the required certification for direct payment.
That certification must identify the necessary expenditures incurred during the public health emergency and the shortfall from the previously approved budget.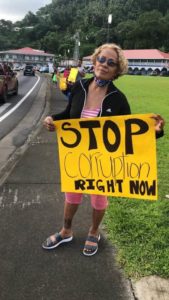 However, that amount will be deducted from what that individual state will receive based on the "relative unit of local government population appropriation amount".
These funds will go towards costs incurred due to the public health emergency with respect to the COVID-19 pandemic.
They will also be used to cover costs not accounted for in the budget most recently approved as of March 27, 2020 and were incurred during the period that begins on March 1, 2020 and ending on December 30, 2020.