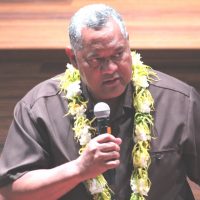 It was made clear at yesterday's Coronavirus Task Force meeting that the planned charter by Hawaiian Airlines will not bring any passengers into the territory. The charter will only pick up passengers from American Samoa.
Lt Governor Lemanu Peleti Mauga who led the meeting as Governor Lolo Moliga was said to be under the weather, said that those who will be able to fly out on the charter are those needing medical treatment off island, students bound for college, military recruits and those residing off island who have been stranded here.
Lemanu said the Coronavirus Task Force is still in discussions with Hawaiian Airlines but it's likely that the charter will take place in two weeks.
According to the lt governor, the Task Force will submit their plan to the governor for approval after which details will be announced to the public.
Director of Public Works Faleosina Voigt asked during the meeting why the charter cannot bring passengers into the territory.
Lemanu responded that the plan they agreed to is to complete the repatriation flights from Samoa first then allow staff of DOH and LBJ Hospital to recuperate before they look at bringing people from Hawaii.
He pointed out that the borders are still closed and the governor has not made a decision on when they will be reopened.
Lemanu added that the governor is also considering the spread of coronavirus in Hawaii.
Before the end of the half an hour meeting Lemanu reiterated that the charter flight from Hawaii should not be mixed up with the reopening of the borders. "These are two separate things", he said.
Lemanu again spelled out that the flight will only take passengers out of the territory but will not bring any one in. He said that this is the same as the flights from Samoa…
The lt. governor said he knows a lot of people are waiting for when the borders will be reopened but as Governor Lolo has apologized and asked for their understanding, "we need to prepare all the necessary facilities before a decision is made."
The portion of the Task Force meeting that was aired on KVZK-TV last night included just the report from DOH and there was no report from LBJ Hospital.
According to DOH, 950 COVID-19 tests had been conducted as of July 4 and all were negative. 506 of those tests were for first responders. DOH has 5,188 test kits remaining.
A total of 158 people have been repatriated from Samoa, and last week 65 completed their quarantine period and allowed to go home.
As of July 3 there were 50 people remaining at Sadies by the Sea, 41 were at the DWYA Center and 2 were home quarantined.
The DOH report also said that the remains of two individuals who died of cancer were brought home on the weekly cargo flight.