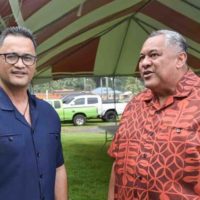 The gubernatorial team of Lemanu Palepoi Sialega Mauga and Talauega Eleasalo Va'alele Ale have outlined their priorities for improving the territory's infrastructure.
The candidates said in a press statement, "We are committed to enhancing our people's quality of life in all sectors including our physical and environmental infrastructure that directly affect their well-being and safety."
One of their top priorities is to create a permanent maintenance fund allocated for annual maintenance of all government facilities.
They explain that a dedicated portion of the maintenance fund will be used to maintain the school bus fleets, public safety vehicles, fire trucks, and emergency medical vehicles.
All departments should be mandated to set aside a part of their budget for public service vehicles particularly in the transportation of children and first responders.
The Lemanu Talauega team pledge to address the long-standing issues of reliable, consistent, accessible and safe transportation for the islands of Manu'a, and plan to obtain a government-sponsored ferry for the people of Aunu'u.
According to the statement the team is committed to building seawalls in every village affected by the impact of rising sea levels due to climate change.
For roads, they recognize that the territory's road system must be built and maintained at a standard that can withstand flooding.
They said drainage issues throughout the territory's road systems will be addressed to provide protection of property.
Their plan would also add more sidewalks and bike lanes to encourage healthy living for residents to help combat the rising epidemic of obesity.
Lemanu and Talauega see a need to expand and keep all our green park spaces available so families and children have places to gather for celebrations and sports.
Their infrastructure platform also includes the continued enhancement and expanding of the telecommunications industry and continuing to improve public utilities.