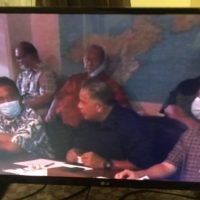 Governor Lolo Matalasi Moliga's helath is okay, assures his executive Assistant Iulogologo Joseph Pereira.
KHJ News was seeking information on the governor's health after he missed the Coronavirus Task Force weekly meeting yesterday.
According to Iulogologo, the governor "just had some unexpected issue which came up at the last minute."
Lt Governor Lemanu Peleti Mauga chaired the meeting at the Emergency Operations Center yesterday.
Only the Department of Health made a presentation in the broadcast of the meeting aired on KVZK-TV last night.
Asked about why there was no report from the LBJ Hospital, Iulogologo said LBJ did make a presentation reporting that the testing equipment will not be functional some time this week as it is currently being calibrated and certified.
In his presentation at last week's meeting, the CEO of LBJ Hospital Faumuina John Faumuina said they were awaiting a supply of ethanol from Hawaii then the AB1 7500 testing machine for COVID-19 would be operational.
In related news, we asked the Task Force chairman how many people are left in Samoa who have been issued OK boards for the repatriation flights.
He said there are at least 55 more legal residents to be repatriated exclusive of the requests from businesses for technical and skilled works to be brought over from Samoa.
He reported that the governor and lt governor are vetting the list of  technical and skilled employees to be brought from Samoa.
It was announced last week that businesses and government agencies would be given a one time opportunity to request such workers  with specialized skills.
Iulogologo said  the list of those approved will be sent to the Attorney General who will work with the two inter Samoa airlines, Samoa Airways  and Talofa Airways,  for any additional flights to accommodate the technical and skilled workers.
He added that the Department of Health will ensure that tests and monitoring protocols are conducted and in place to track these workers.
Asked when the repatriation flights from Samoa will end the chairman said they had hoped to end the flights on June 30th.
However quarantine sites are  being overwhelmed so the flights were staggered with smaller number of passengers to ease the burden on DOH staff and facilities.
The governor and lt. governor wish to expedite the completion of the repatriation process given their concern over the new cases surfacing in New Zealand and the current open borders between New Zealand and Samoa.