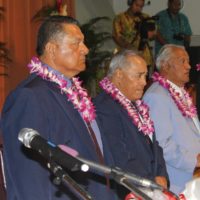 The checks for representatives and senators from the COVID-19 funding for ASG were distributed today in separate meetings at the Senate and House.
According to two House representatives who attended the meeting with House Speaker Savali Talavou Ale, the checks are for lawmakers to set up offices at their homes, including costs for telephone and internet services.
The faipule said the speaker recalled that members have been complaining about not having offices to meet with their constituents while the new Fono building is under construction.
He said the money is to help them set up their offices at home and pay for all associated costs.
The Speaker said lawmakers can also use the money for things that their districts need,
The lawmakers said the Speaker did not once mention leasing rooms at Sadies By the Sea for offices for House representatives and Senators.
We reported yesterday that in a telephone interview with KHJ News, Governor Lolo Moliga said that the checks will be used to lease rooms at Sadies by the Sea for offices of lawmakers.
He said the Fono had initially wanted to buy the hotel but this was out of the government's reach.
Instead they would lease part of the hotel for lawmakers' offices.
When KHJ News followed up with House Speaker Talavou Ale he explained that a change was made because the funding was not enough to cover the cost of the lease of hotel rooms.
Instead lawmakers will have offices at home and use the funds to pay for phones, internet and other office expenses.
A senator who attended the distribution of checks at the Senate side said this was the same explanation given by Senate President Gaoteote Palaie.
The checks for the Fono leaders were $20,000 while senators and representatives received checks $10,000.