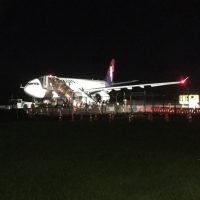 Since the revelation by Governor Lolo Moliga of a possible Hawaiian Airlines charter to take stranded travelers, KHJ News has received many inquiries as to where people who want to travel on the planned flight can sign up.
The Chairman of the Coronavirus Task Force Iulogologo Joseph Pereria said no decision has been made on the charter or special flight at this time.
They are exploring all feasible options.
He said once they have some solid information, the Task Force will present and seek the governor and lt Governor's decision and then let the public know.
He added that at this point the focus is completing the repatriation of residents from Samoa. The chairman said quarantine facilitites are currently occupuied.
"Any decision on a charter or special flight will not happen until the Samoa repatriation pogram is completed," he said.