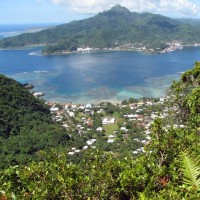 American Samoa is the recipient of two grants from the CORAL Reef Initiative and Natural Resources Program funding from the Office of Insular Areas to protect coral reefs, conduct clean up and restoration activities and combat invasive species.
The Governor's Office is getting $135,930 to clean up the Vaipito Stream as well as its associated tributaries and wetland areas in order to protect Pago Pago Bay and the surrounding marine environment from sedimentation and run off.
Clean-up and restoration efforts will also focus on the removal of trash and debris from target areas to reduce disease-carrying mosquito and rat populations, as well as revegetation of the lower Vaipito area with mangrove trees and riparian salt-resistant native tree species.
All efforts will support the Governor's Island-Wide Clean-Up Initiative and are included in American Samoa's long-term conservation plan.
The Department of Marine and Wildlife is getting $297,791 to continue control and humane eradication efforts of the invasive Myna and Bulbul bird populations on Tutuila Island.
First funded by the Office of Insular Affairs in 2017 the American Samoa Government has completed the National Environment Policy Act environmental compliance requirements with the Historic Preservation Office and U.S. Fish & Wildlife Service; constructed more than 4,000 live traps; completed consultations with the Office of Samoan Affairs, village councils, and mayors; and provided outreach presentations to local communities and schools.
The initial dispatch of these invasive birds in certain areas has already allowed for the return of some native birds and other species.
Total funding for the territories and insular areas which Interior Assistant Sectrary of Insular and International Affairs Douglas Domenech announced yesterday was $1.6 million.