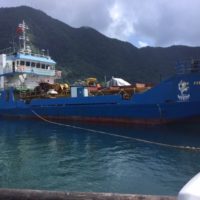 The same rules for crew of container vessels will be applied to the crew of the Fotu o Samos when it arirves in port this morning on a cargo only trip.
No passengers are on board.
Peter Te'o of Polynesian Shipping, local agents for the Samoa Shipping Corporation which operates the Samoa Government vessels, said that none of the crew will set foot on local soil when the Fotu docks.
Local staff will tie up the vessel when it berths and will operate the forklifts to unload incoming cargo and load the vessel when it leaves later this afternoon.
The boat is bringing mostly agricultural produce mainly taro, Samoa cocoa and other made in Samoa products. Local businesses that transship goods through Apia are also expecting shipments on this voyage.
Te'o said there's been a lot of inquiries from businesses and individuals planning to send cargo on the vessel's return trip. Governor Lolo Moliga had told kHJ News last week that local residents wanted to share their blessings from their Gita food assistance program with relatives in Smaoa.