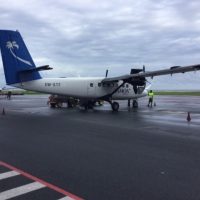 Scheduled flights to Manu'a on Samoa Airways are set to begin on Saturday.
Commercial flights to the eastern group of islands were suspended in March due to the coronavirus pandemic.
But emergency flights to carry ASG personnel, patients and health related travel to and from Manu'a have continued.
Local Station Manager for Samoa Airways Toe Loia said the airline received approval today to resume their scheduled flight service to Fitiuta and Ofu.
He said their first flight is set for Saturday and they are now accepting passengers.
He said the frequency of flights for next week will depend on the demand.
He asks those who plan to travel to contact their office at 699-9126 for reservations.