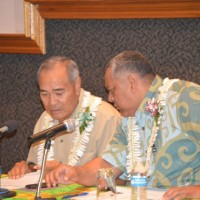 ASG finished Fiscal Year 2019 in the black.
The General Fund reported a cumulative net fund balance of $11.4 million, says the FY2019 audit report for ASG conducted by Larson & Company, PC of Utah.
This compares to the prior year's net fund balance of $3.9 million.
According to the audit report, the improvement was due to realizing a $7.5 million surplus in 2019.
The auditors note that since 2012, ASG under the Lolo Lemanu Administration has recorded a year end surplus in the General Fund seven of the eight fiscal years.
As of September 30, 2019 the territory's total net position of the primary government increased by $2 million from the prior year.
The increase was a significant improvement over the FY2018 decrease of $4 million.
The increase was attributed to an increase in revenues of $53.9 million compared to the prior year and an increase of only $47.9 million in expenses.
During the year, the territory's expenses for governmental activities totalEd $307.4 million, an increase of $51.7 million from the prior year.
Expenses were primarily funded by federal program revenues, local taxes and fees, other general revenues and bond proceeds.
In the territory's business type activities which include the enterprise funds like the airport, industrial park and shipyard authority, program revenues exceeded expenses by $9.5 million compared to the increase of $6.6 million from FY2018.
Total revenues for ASG in FY2019 was $318.2 million which was generated by program revenues of $240.2 million and taxes and revenues of $78 million.
Of the $316.2 million in expenses for the primary government, Health and Welfare recorded the highest expenses of $97.7 million followed by Education and Culture $81.3 million, and General Government $70,094, 479.
$18.7 million was spent on Public Works, $17.6 million on Economic Development and $13.5 million on Public Safety.
Interest on long term debt was $8.2 million, $7.2 million was spent on the Airport and non major activities is recorded at $1.6 miilion .
According to the audit report the Retirement Fund's total net position dropped by $9.4 million from 2018 to 2019 primarily due to net appreciation in the fair value of the Fund's investments for the year ended Spetemebr 30.
It says the Retirement Fund's Board and ASG are working on ways to increase member and employer contributions, pursue a profitable and sustainable investment policy and operate efficiently to lower the Fund's liability.