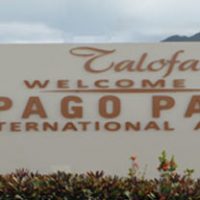 A cargo plane landed at Pago Pago International Airport yesterday afternoon to deliver backlog of cargo which had been bumped off the regular Friday flights.
According to freight forwarding companies that KHJ News spoke with, in the last four weeks, the cargo flight has been carrying more than 30,000 pounds of mail, which is the equivalent of the Christmas mail.
They said the mail and COVID-19 related supplies for the hospital and Department of Health, as well as perishable goods like fruits and vegetables were give first priority, and other cargo were therefore bumped off.
Yesterday's cargo flight was to deliver everything else that didn't make the last few flights.
According to the freight forwarders there's been a significant increase in both incoming and outgoing mail .
"Since people are not traveling they're ordering online and their stimulus checks have given them extra purchasing power,"  said an agent.
And it's the same with outgoing mail.
People are using the postal service to send stuff that they usually take when they travel.
According to the agent most of the outgoing mail is food: pisupo, tuna, bongos and Arnotts cookies.